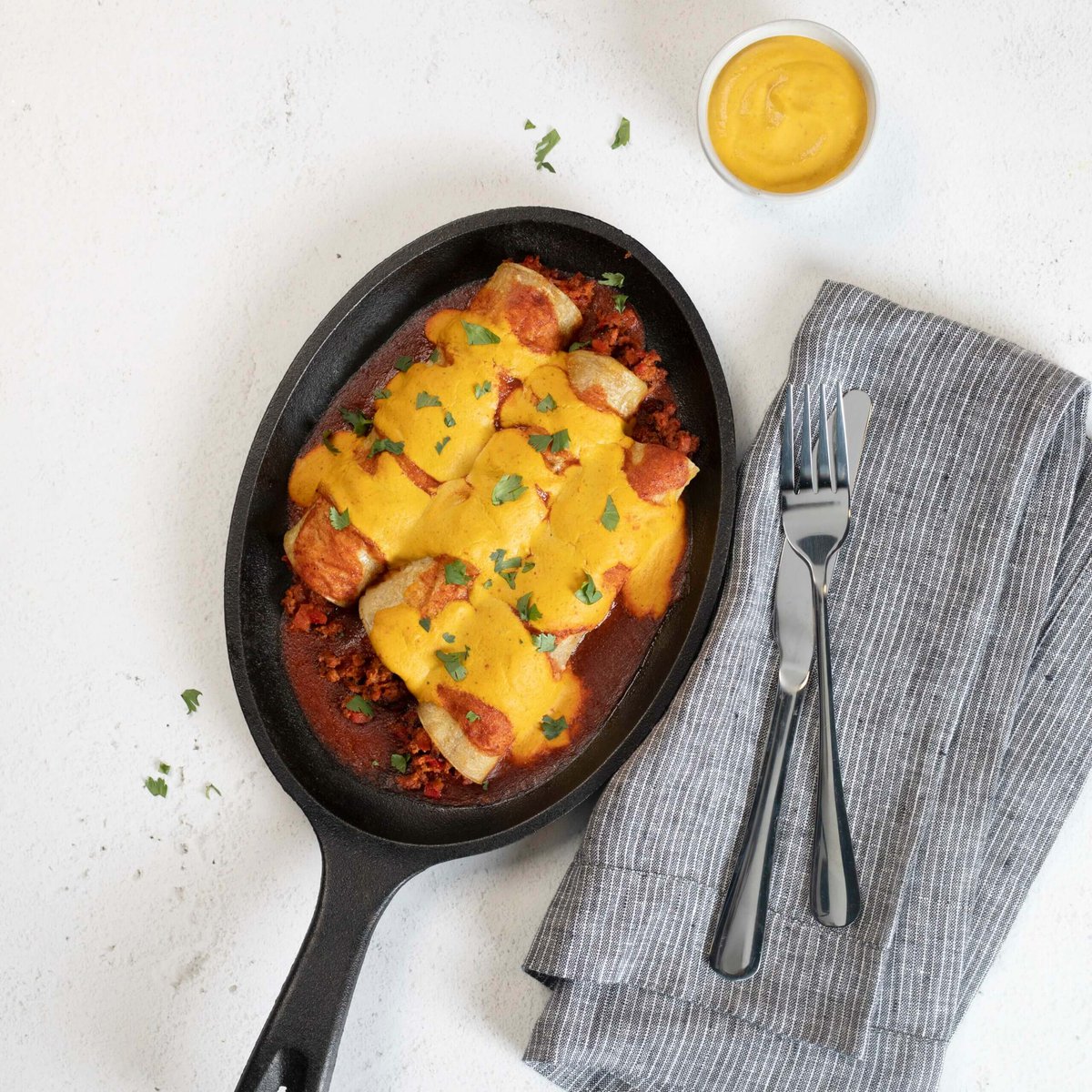 Plant-Based Chorizo Enchiladas
Plant-based chorizo crumbles are folded with diced, fire roasted peppers and creamy plant-based queso then rolled into corn tortillas, covered in rich red enchilada sauce flavored with ancho chilis, garlic and cumin, topped with more creamy plant based queso and baked until bubbly.
Chorizo Filling Ingredients
Servings: 6.5
Ingredients:
Directions:
1. In a sauté pan over medium heat, add olive oil.
2. When olive oil is fully heated (should have shimmer) add in plant-based chorizo crumbles and roasted bell peppers. Cook until chorizo is caramelized.
3. Remove pan from heat, fold in plant-based queso.
Enchilada Sauce Ingredients
Servings: 6.5
Ingredients:
2 Teaspoons Garlic Powder
1 Teaspoon Cumin, Ground
1 Tablespoon Ancho Chili Powder
1 Tablespoon Olive Oil
2 ½ Cups Enchilada Sauce, Prepared
¼ Cup Water
Directions:
1. In a small sauce pan over medium-low heat, add oil, garlic, cumin and ancho chili powder. Toast spices until fragrant.
2. Add enchilada sauce and water to sauce pan and increase heat until sauce reaches a simmer.
3. Allow sauce to simmer for 5-8 minutes, remove from heat and bring to room temperature.
4. Reserve until ready to build enchiladas.
Chorizo Queso Enchilada Ingredients
Servings: 13
Ingredients:
3/4 Cup Good Foods™ Plant-Based Queso
13, 6" Corn Tortillas, Soft
2 ½ Cups Chorizo Filling
2 Tablespoons Neutral Oil
2 Cups Enchilada Sauce
¼ Cup Cilantro, Chopped
Directions:
1. Grease a 1/2 hotel pan with pan spray.
2. Add 3/4 cup enchilada sauce to bottom of pan, spread to coat.
3. In a saute pan over medium heat, lightly fry each tortilla (7-10 seconds per side). This increases the tortilla pliability and helps them not absorb all of the sauce.
4. As tortillas come out of the pan, fill with ~2.5 Tbsp filling, roll and place into the pan fold side down.
5. Repeat this 13 times or until hotel pan is full.
6. Top enchiladas with remaining sauce then top with queso.
7. Tightly cover pan with foil and bake at 375F for 25 minutes.
8. Serve garnished with cilantro.