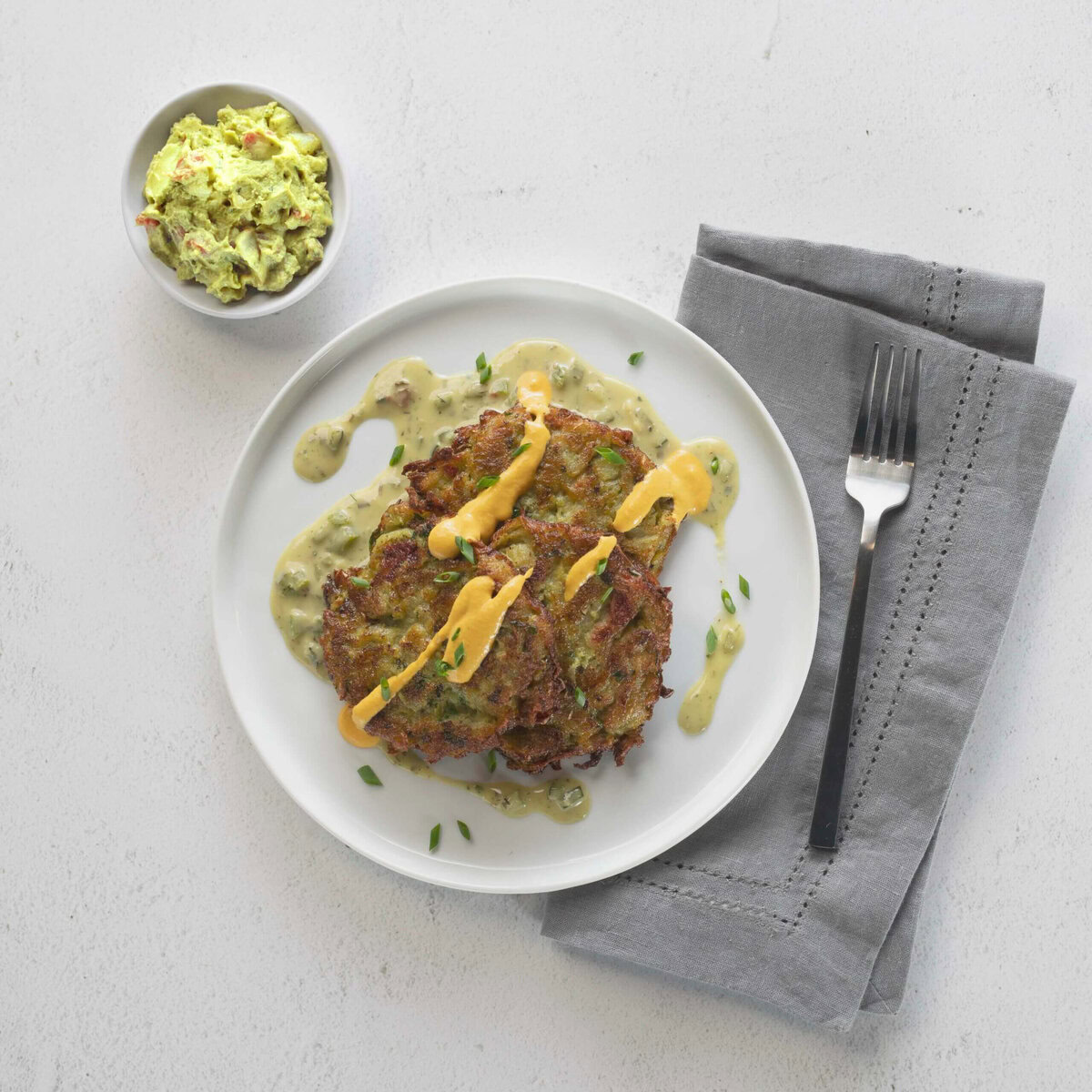 Crispy Creamy Guac Fritters
Good Foods Guacamole combined with fresh shredded potatoes, a blend of herbs and spices, and deep fried till golden brown and crispy. Served with chunky guacamole and dairy-free queso dip.
Servings: 2
Ingredients:
2 Cups Yukon Gold Potatoes, Shredded and Squeezed
1 Tablespoon Chives, Fresh and Minced
1 Tablespoon Cilantro, Fresh and Chopped
½ Teaspoon Garlic Powder
1/3 Cup AP Flour
Canola Oil As Needed
1 Tablespoon Scallions, Thinly Sliced
Directions:
1. Combine first six ingredients in a large mixing bowl and mix well to combine.
2. Using 1 5/8 oz portion scoop (yellow handle), portion onto half sheet try lined with parchment paper.
3. Smash all portions into 1/4-1/2″ thick rounds.
4. Place tray in freezer and allow to set, 30-60 minutes.
5. Meanwhile, place a large pan over medium-low heat, and add canola oil to 1/4″ depth.
6. When oil is just shimmering, place frozen potato cakes in pan, making sure to not overcrowd.
7. Cook gently until golden brown, about 4-5 minutes. Flip, and cook another 4-5 minutes.
8. Transfer to a wire rack set over a half sheet tray and allow to drain.
9. Repeat steps 6-8 with remaining potato cakes.
10. For service, deep fry fritters at 350 for 2-3 minutes, until crispy and deep golden brown.
11. Arrange fritters on serving plate with a ramekin of Guacamole, and a ramekin of Queso, and garnish with scallions.