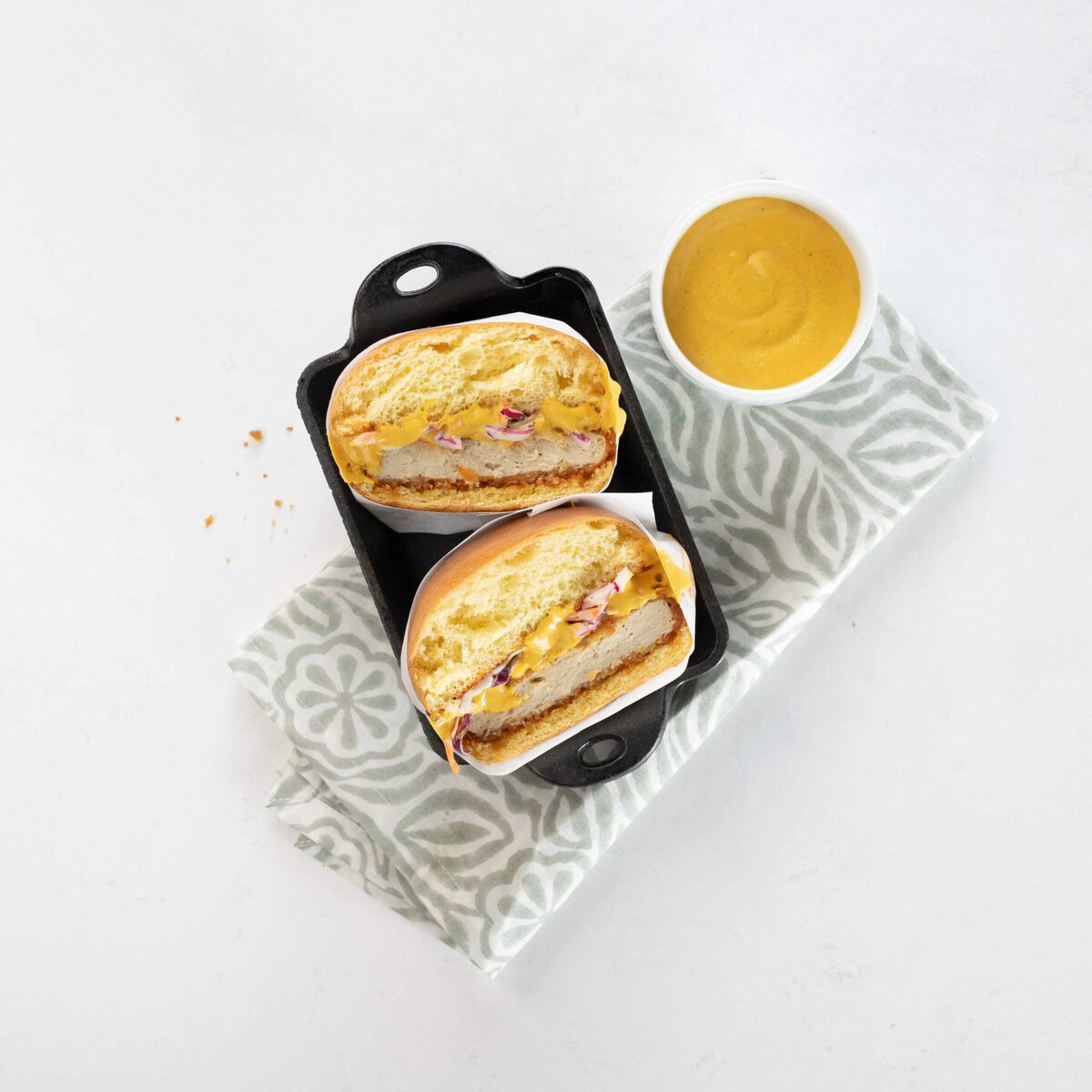 Cheezy Chick'n Melt with Tangy Cabbage Slaw
A crispy, plant-based chicken patty tossed in a spicy Nashville hot-style seasoning, on a fluffy brioche style bun, smothered in rich dairy-free queso sauce and finished with a tangy red onion, cabbage and carrot slaw.
Tangy Cabbage Slaw Ingredients
Servings: 14
Ingredients:
4 Cups Tri-Color Slaw Mix
½ Cup Red Onion, Thin Julienne
2 Tablespoons Vegan Mayonnaise
1 Teaspoon Whole Grain Mustard
1 Tablespoon Red Wine Vinegar
½ Teaspoon Salt
¼ Teaspoon Black Pepper
½ Teaspoon Sugar
Directions:
1. In a small bowl, combine vegan mayonnaise, whole grain mustard, red wine vinegar, salt, black pepper and sugar. Stir until sugar is fully dissolved.
2. In a large bowl, add tri-color slaw mix and red onion.
3. Mix dressing into the onion and slaw mixture, coat to combine.
4. Hold under refrigeration until ready to use.
Cheezy Chick'n Melt Ingredients
Servings: 1
Ingredients:
2 Tablespoons Good Foods™ Plant-Based Queso
1 Vegan Brioche Bun, Toasted
1 Plant-Based Breaded Chicken Patty
1 Tablespoon Neutral Oil
1 Tablespoon Nashville Hot Seasoning
¼ Cup Tangy Cabbage Slaw
Directions:
1. In a small bowl, combine Nashville Hot Seasoning and oil.
2. Toss plant-based chicken patty in oil until it is fully coated.
3. Build sandwich in the following order:
– Bottom Bun
– Nashville Hot Patty
– Plant Based Queso
– Cabbage Slaw
   – Top Bun