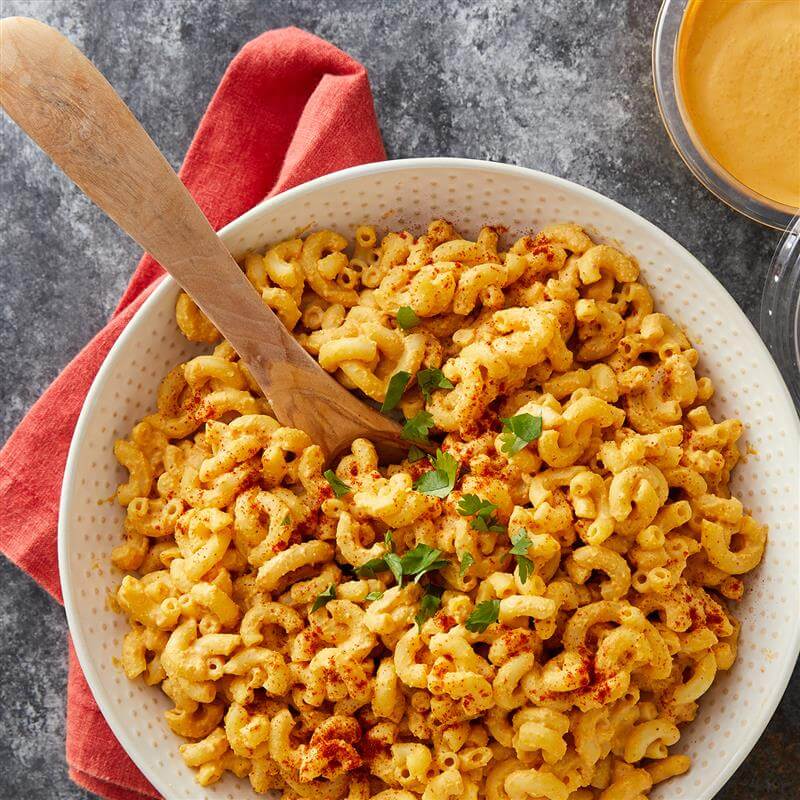 Cauli-Queso Mac & Cheese (Dairy-Free & Nut-Free)
Don't tell your customers it's vegan and dairy-free because they won't believe you! Good Foods Nut-Free Queso Style Dip makes the perfect Mac & Cheese. Use our recipe as the base and add in your favorite ingredients and toppings to make it stand out even more.
Servings: 10-12
Prep Time: 5 minutes
Cook Time: 10 minutes
Ingredients:
1 lb. box dry elbow macaroni
1 tsp paprika
4 tbsp cilantro, finely chopped
Salt and pepper to taste
Directions:
In a large stock pot bring salted water to a rapid boil. 
Add elbow macaroni; stir gently and return to a boil. Cook uncovered, stirring occasionally for 8-10 minutes or until desired tenderness is reached. Drain. 
In a large mixing bowl add the cooked macaroni, GF Queso, paprika and fresh chopped cilantro and mix well. Add salt and pepper to taste. 
Place in a serving pan and hold hot for up to an hour. Add a few ounces of hot water to the pasta to loosen it up if too thick.