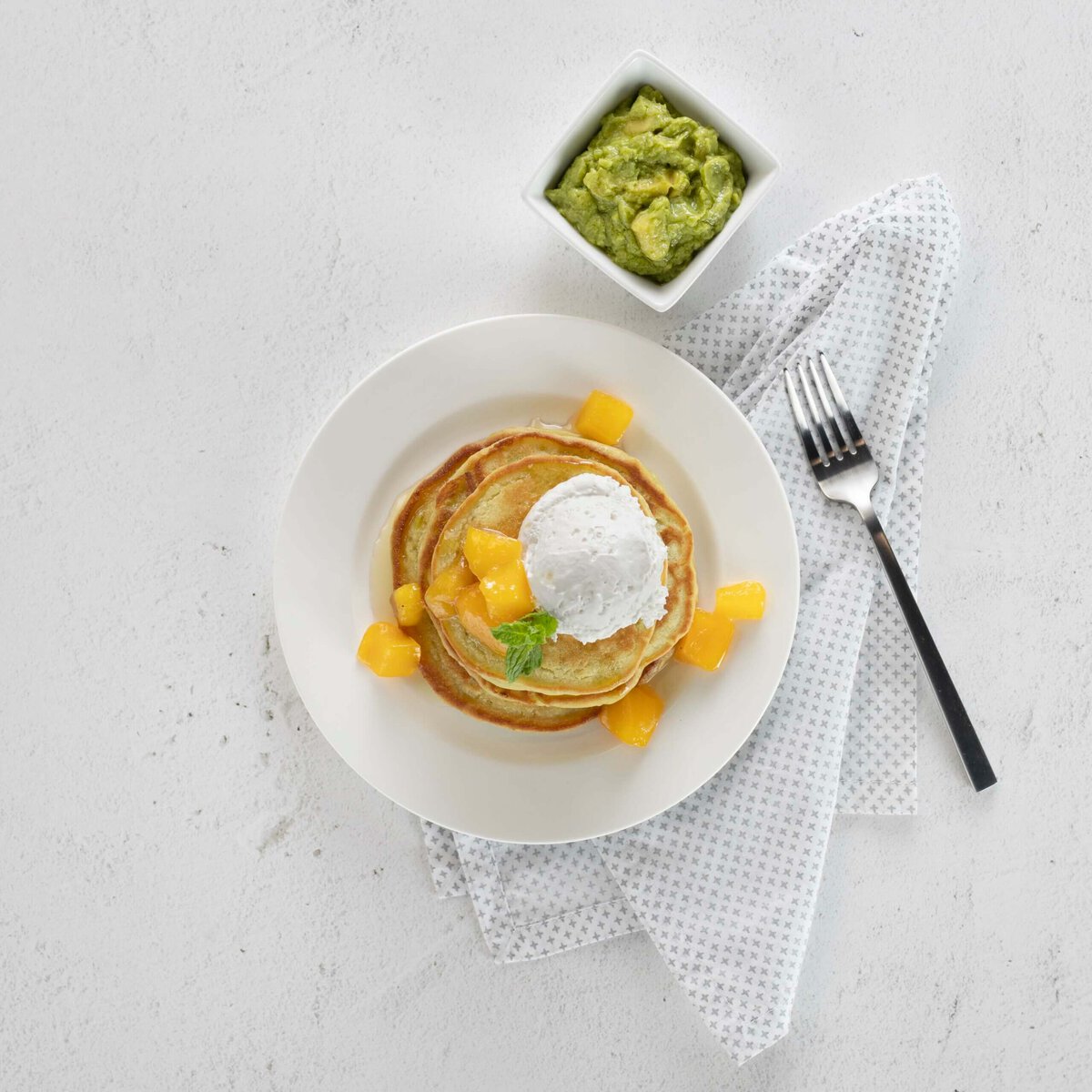 Avocado Short Stack with Mango Agave Compote
Light and fluffy avocado pancakes fresh off the griddle are topped with sweet mango-agave compote and decadent coco-whip for a plant-based breakfast treat.
Pancake Ingredients
Servings: 2
Ingredients:
1 Cups Good Foods™ Avocado Pulp
1 Cup Oat Milk
1 Teaspoon Vanilla Extract
¼ Cup Sugar
1 ½ Teaspoons Baking Powder
Pinch of Salt
1 ¼ Cup AP Flour
1 Tablespoon Dairy-Free Butter
Directions:
1. In a small bowl, combine flour, salt and baking powder and whisk to combine.
2. In a separate medium sized bowl, combine avocado pulp, oat milk and vanilla extract. Stir until mixture is homogenous.
3. Pour half of dry mix into wet ingredients and mix to combine then add the second half. It is okay if mixture has a few lumps.
4. In a medium sauté pan over medium-low heat, melt butter.
5. Pour approximately 2 oz of batter onto pan and spread to desired diameter.
6. Cook pancake until bubbles are visible then flip and cook until golden brown.
7. Repeat until all batter is used, should make approximately 6-7 pancakes.
Mango-Agave Compote Ingredients
Servings: 10
Ingredients:
3 Cups Mangos, Fresh or IQF
¾ Cup Agave Syrup
1 Tablespoon Lemon Juice
1 Cup Water
Directions:
1. In a small saucepan over medium low heat, combine mango, agave, lemon juice and water.
2. Allow mixture to simmer for 25-30 minutes or until mango is completely soft.
Avocado Short Stack with Mango-Agave Compote Procedure
Servings: 1
Directions:
1. Stack pancakes on top of one another on plate.
2. Top pancakes with Mango-Agave Compote.
3. Top Mango-Agave Compote with coco-whip.